Swan Walk is proud to live in the heart of the Horsham community. Therefore, social value is at the heart of everything we do.
We seek to assist the local community by offering mall space to help promote different charities and causes, and we also host special events to raise profiles and money. 
Here are some of our highlights;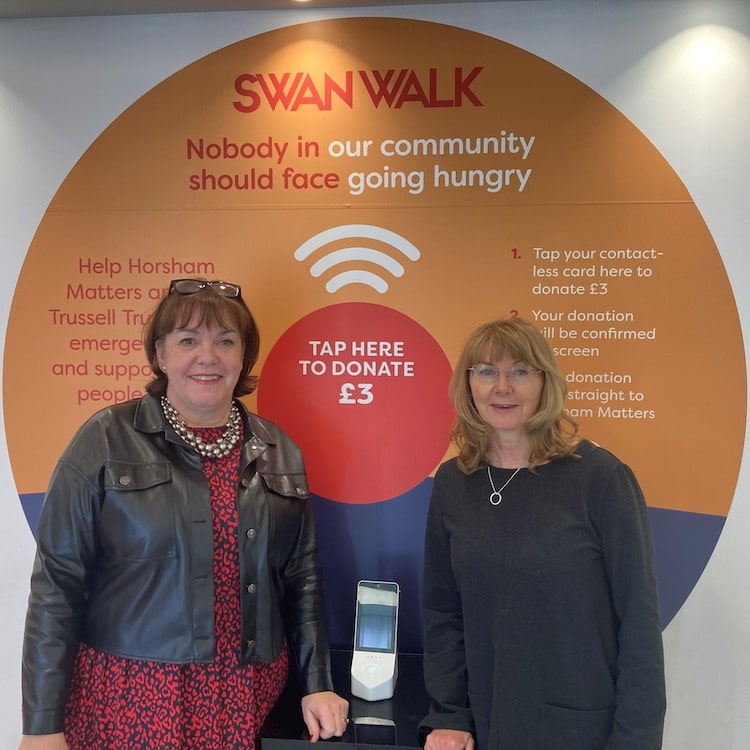 Horsham Homeless and The Trussell Trust Partnership
Nobody in our community should face going hungry.
That's why we're making it our mission here at Swan Walk to raise as many funds as possible to support those less fortunate in Horsham. Partnering with both Horsham Homeless and The Trussell Trust, funds raised through our 'Tap to Donate' point (located near the toilets) will be split between both charities.
Together with the local Horsham customers we are committed to ensuring nobody goes hungry in our community.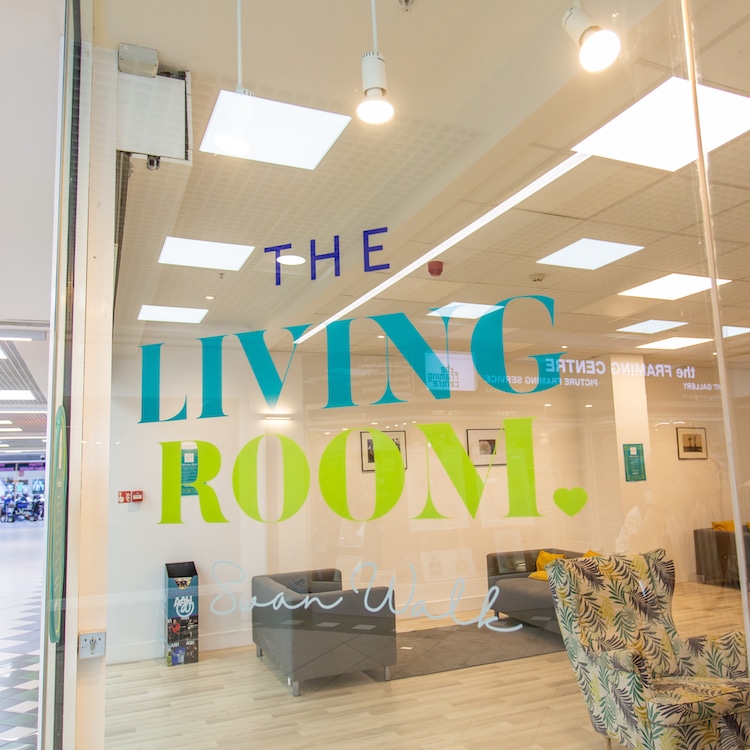 The Living Room …is your home, from home!
The Living Room offers a quiet space for our customers and community. Not only can you sit back and relax, catch up with friends and take some time out from your shopping (great when you have lots of bags to carry!) but a 'Book Swap' initiative also operates from The Living Room.
We encourage community groups to use this space for meetings, catch-ups, and book clubs! Just contact us on 01403 210 014
to let us know if you'd like to use this space.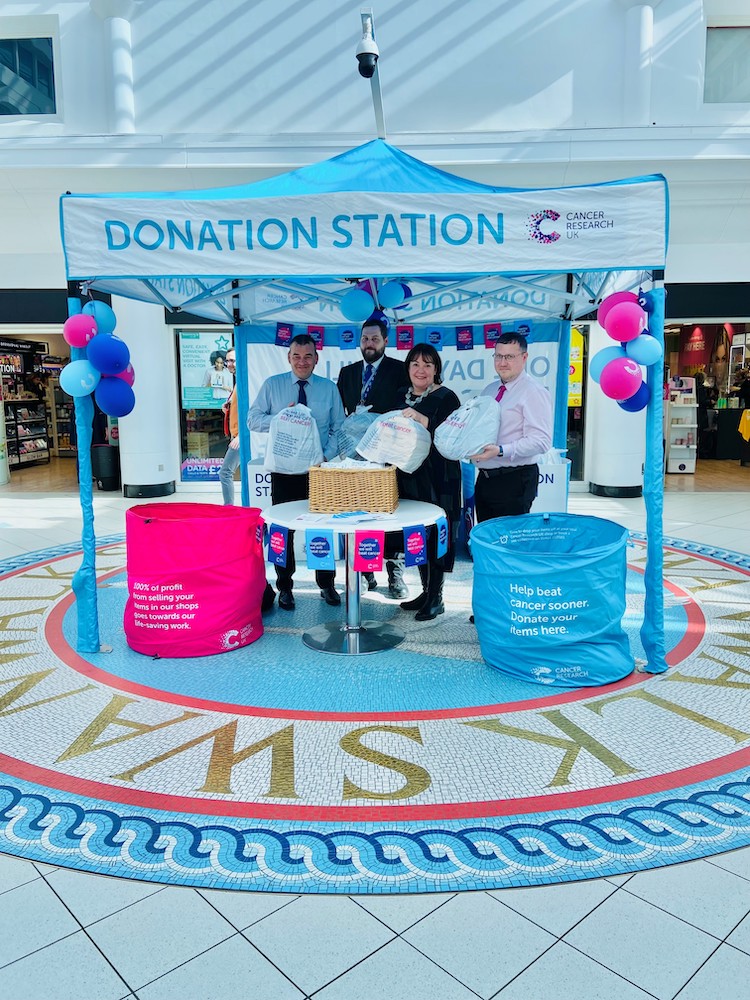 Donation Station partnership with Cancer Research
Thanks to your generous donations our Donation Station has helped us raise over £200,000 for Cancer Research UK since 2008.
Every year we run a Donation Station located on the centre's mosaic where we invite customers to fill a bag with unwanted clothes, homeware and books and bring them back when next visiting the centre.
For more information about Cancer Research UK visit: www.cancerresearchuk.org/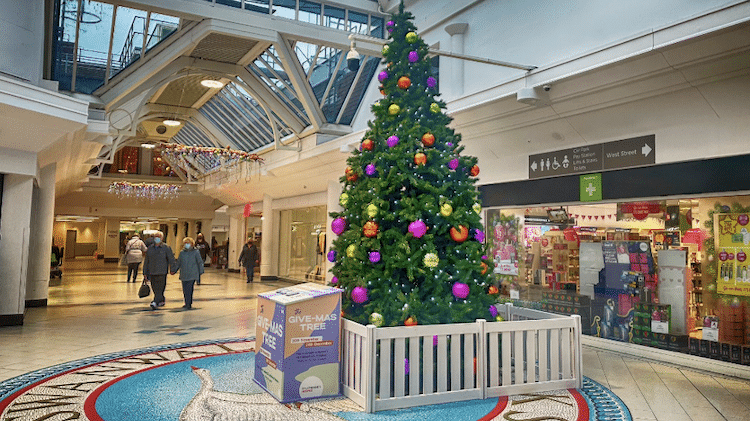 Givemass Tree – CSR Award Winner
We love to give back to the community and our annual Givemas Tree is an initiative we're very proud to host here at Swan Walk. Our 2021 "Givemass tree" supported local charity St Catherine's Hospice and contributed to the fantastic total of £2,000. A huge thanks to the Horsham community for their generosity! Watch this space for Givemass 2022…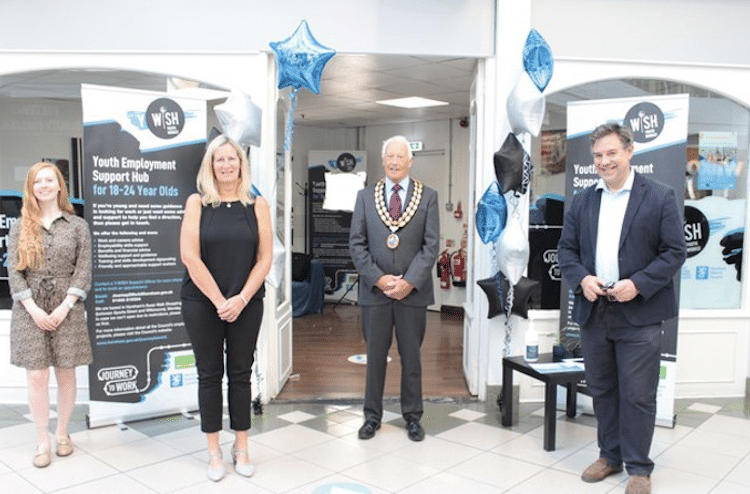 Horsham District Council – Youth Employment Hub
A Youth Employment Support Hub, run by Horsham District Council is located here at Swan Walk is near Wilko.
Y-WISH is designed to help 18-24-year olds with finding work, training, or careers advice. Theyhave friendly youth advisors to help you with whatever advice or guidance you need.
For more information on the project and how to receive support click here.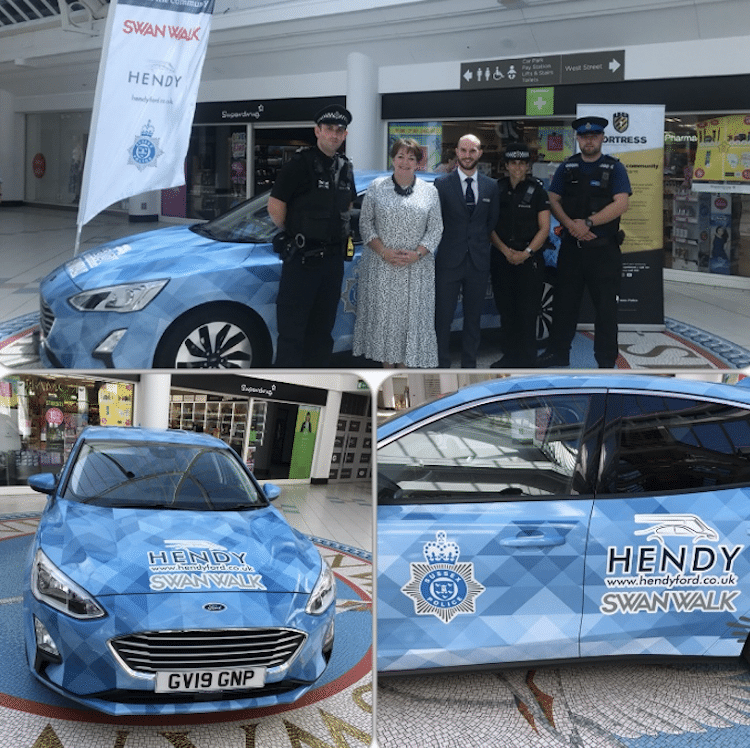 Community Police Car Partnership
For nearly 20 years, Swan Walk has sponsored the community police car to provide the Neighbourhood Police team transport to spend more time in the town centre and support the surrounding communities in Horsham.
It is a truly local partnership for the benefit of the community and Swan Walk remains extremely proud of this initiative and remains as important and relevant to the Police and the people of Horsham today as it did at the initial launch. Once charging points are more readily available in the town/district we will also be looking to move to an electric vehicle.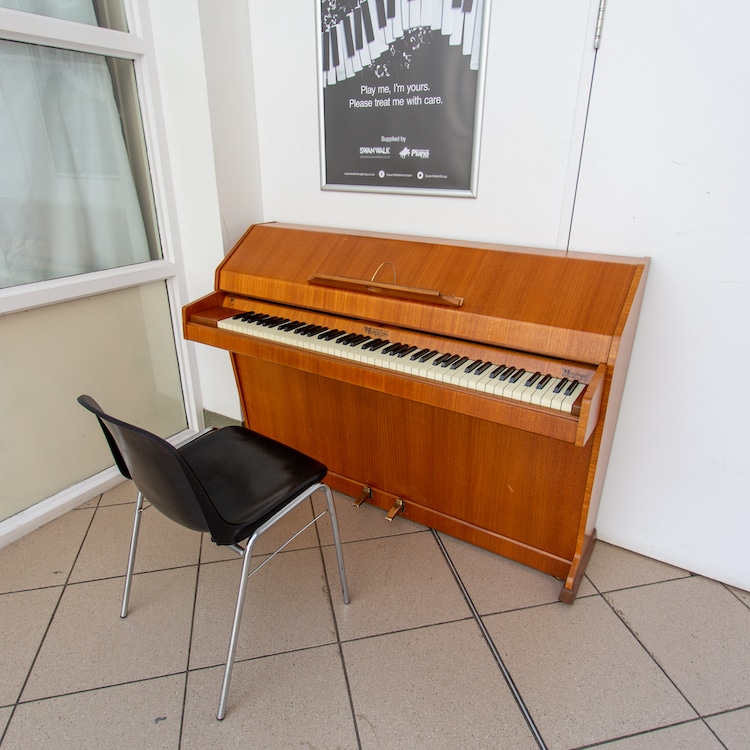 Swan Walk Street Piano
In partnership with Horsham Piano Centre, we invite you to play and enjoy our piano in Springfield Court. The piano is yours to play at your leisure, we encourage the community to share their talents and look forward to listening to your tune.